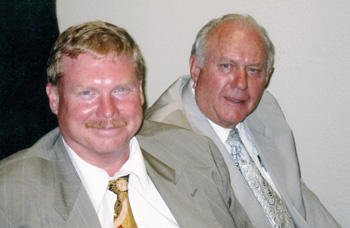 Steve Hansen with Author Earl Hansen
Steve was of great assistance during the many years I spent in writing this vocational training course.
AUTHOR'S STATEMENT

My father was born in Denmark and was trained as a journeyman machinist. He left Denmark at the age of 16. (I still have his journeyman machinist papers issued from Denmark in 1911.) He was a remarkable man in many ways, and was a truly great engineer. He could design and build almost anything. I would say he was a master machinist's - master machinist. He taught me the trade starting at the age of 13.
I was born in Los Angeles County in 1929 and have always worked as a self-employed machinist. In 1945, while still in school, I began working in our small family machine shop. By 1948 Hansen's Machine Company was formed. We moved machinery and equipment from several locations to one central shop in Los Angeles. In Los Angeles we machined very precsion aircraft parts with average close tolerances of .001" and average very close tolerances of .0002". Then in 1955 I bought this business from my father and in 1958 moved it to Anaheim California, within sight of Disneyland.
In February 1963 at the age of 33, and after 17 years in the aircraft parts production business, I sold the company (a 40-man operation) and moved my family to Willits, California, located 130 miles north of San Francisco and 30 miles from the Pacific Ocean. Hansen's Machine Company in Willits was formed in 1964. Repairing logging equipment and other machinery, I became very interested in precision line boring. Hansen's Line Boring Service opened shortly thereafter. For over 20 years I did almost all the repairs for the Caterpillar Tractor dealership in Willits and in Napa Valley (Napa Valley of California is famous for their wine industry). All these years I have been heavily occupied in the Line Boring industry and in pursuing a more efficient usage of fuel in internal combustion engines.
At the time of completing this book and its accompanying blueprint set, I am 76 years old. Just yesterday I bid on a 966 Cat Loader needing repair on its very badly damaged (1/4" loose) articulated hitch. My many years of experience are available in this Educational Course to Line Boring. The blueprints are superbly engineered and easy to follow. There is a treasure of information contained in this package. In a matter of weeks, you will learn what it took me 40 years to learn.
Earl Hansen
Talk to Earl at: (707) 456-9761